A .19 Caliber Experience
By Member Roger Stark
(reprinted by permission from "Varmint Hunters Magazine", Issue #32, October 1999)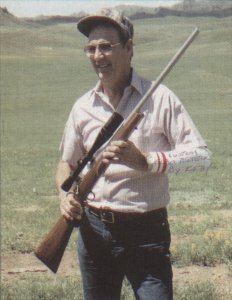 In January of 1998, I had the opportunity to go to the SHOT Show in Las Vegas. My first stop for free coffee was at the Cooper Arms booth. I own several Cooper rifles and I had to check out Coop's new offerings. Dan "The Man" Cooper immediately handed me a beautiful Model 21 Varmint Extreme in a new wildcat, the 19-223 Calhoon. Coop explained that the 19-223 Calhoon is a hot new creation from James Calhoon Mfg., Montana's custom bullet maker, and was Cooper's first 19-223 off the line (ser.# F101). A 9 oz. trigger, 26" barrel, triple A walnut. Can things get any better for a varminter? A brand new varmint rifle in a brand new varmint cartridge. My mind was made up !
It wasn't more than a week later and I had the Cooper in my paws. A phone call to James Calhoon, and after a little discussin', I had a set of 19-223 Bonanza BR dies and five hundred James Calhoon 19 caliber, 40gr bullets heading my way, along with load data and instruction sheets. Now I'm a shooter, not a loader, so my 19-223 Cooper and I headed to Fred's (my shooting partner) for the tuning. It wasn't long before we found that 28.5 grains of H380 behind the 40gr bullet gave us 3,800 fps and some very small groups.
Now the wait began. Fred and I had planned a trip to Montana for a little gopher and prairie dog shooting, or whatever else came along. Fred had a arranged a meeting up in Montana with Ron Coburn (Mr. Savage Arms himself). Ron was going to shoot the 19-223 Calhoon in a couple of new Savage Model 12 short action rifles. (In the picture you can see Fred coveting a Savage Striker hunting handgun.)
At last, the day finally came. We were all shooting in Montana and I had the chance to put the 19-223 Calhoon / Cooper rifle to the test. How did it perform? Well, my shooting buddy Fred had the notion that I should get myself into the Varmint Hunters Association 500 Yard Club. A little ranging with his Bushnell 800 and he found a gopher patch at 525 to 540 yards. Surprisingly, after four shots to get my range, I smacked a gopher that Fred ranged at 523 yards. Wow ! I impressed myself. Fred said, "There's another one just up to the right at 532 yards. Use the same hold!" Sure enough, another hit! Too bad the sun was going down, forcing us to pack it up for the day.
The next day, we encountered many more gophers, two badgers and a rockchuck. I was really impressed with how the 40-grain bullets in the 19-223 Calhoon anchored the badgers. I have hit badgers with a 55-grain bullet from a Swift and had them crawl off. Not so with the 19-223. The badgers were just plain dead, with no bullet exit. The combination of the Cooper Model 21 rifle and the 19-223 Calhoon cartridge makes an accurate, flat shooting varmint outfit that reaches far beyond my 17's.
Ron Coburn also seemed rather pleased with the 19-223 in the Savage Model 12BVSS (see his smiley face). Ron had kindly supplied a new Model 12 for the test and he certainly did help us test ! If the varmints weren't ducking, they were flying from the barrage of lead and copper. Ron likes to run through the rounds! After four days of shooting we had run out of time and ammo. We went home happy.
We'll be experimenting with more 19 caliber loads, as bullets range from 27 to 44 grains (27,32,36,40,44 grains). My next 19 caliber rifle will be a 19 Calhoon (Hornet) barreled on a 22 RF 580 Remington converted to a centerfire. I'll be getting a 19 Caliber Re-Barrel kit from James Calhoon Mfg, and my gunsmith will install the 19 caliber barrel on the 580 Remington. The Re-Barrel Kits seem to contain everything you need: a chambered, hand-lapped Pac-Nor barrel; a Bonanza BR die set; 19 caliber bullets; cleaning brushes; and loading data and information. Can't wait to get this gun. It will be tailor-made for gopher hunting, reaching velocities of 3,600 fps with a 27 grain bullet.

I've enclosed Cooper's address for those interested in a custom rifle in the 19-223 Calhoon. I also understand Savage may be interested in the 19-223 and James Calhoon Mfg. is supplying the Re-Barrel Kits to convert existing rifles.

In the meantime, I'm sure having fun with this new 19 caliber!


L. Ron Coburn "Mr. Savage", and Fred
Contact Addresses
Cooper Arms
P.O. Box 114
Stevensville, MT 59870
(406) 777-0373
James Calhoon Mfg.
4343 U.S. Highway 87
Havre, MT 59501
(406) 395-4079
Savage Arms
100 Springdale Rd.
Westfield, MA 01085
(413) 568-7001