VALUE PRICED to make high volume shooting more affordable.
DOUBLE HOLLOW POINT(DBL HPTM) Our unique DBL HP bullet, with a cavity in its soft lead core, triggers explosive expansion even at low velocities. Its high incidence of total expansion minimizes ricochets and provides added safety when hunting near livestock.
"SLICK-SILVERTM" coating is electrochemically applied to the outside of the bullet to provide an ultra slippery bore lubricant which reduces fouling and makes barrel cleaning easier. Cleans with regular bore cleaners. "Slick-SilverTM" plating gives the appearance of a real silver bullet. Useful in many of todays endevours against varmints, werewolves and vampires. All James Calhoon bullets are "Slick-SilverTM" plated.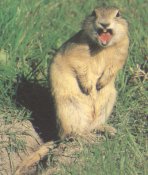 SUGGESTED APPLICATIONS FOR James Calhoon BULLETS:
19 Caliber NEW!! 32 gr Blitz King (BK), giving the 19 caliber cartridges an ultra slippery polymer tipped projectile
28gr & 32gr DBL HP "H" Lightweight bullets with ultra thin jackets, produce maximum velocities in the 19 Calhoon (Hornet) and 19 BADGER.
32gr DBL HP Over 4000 ft/sec is achieved with the 32gr DBL HP in the 19-223. The jacket of this bullet is 30% thicker than the "H" bullet above.
36gr & 40gr DBL HP Heavy weights for the 19 Calhoon (Hornet) and 19 BADGER. When used in the 19-223, great ballistics and high velocities make for exciting varminting performance.
44gr DBL HP The heavyweight for the 19-223. Excellent long range, wind-bucking bullet that delivers plenty of energy.
20 Caliber
33gr DBL HP & 39gr DBL HP James Calhoon 20 caliber bullets are superior for penetration and will get you more of those "doubles". A preferred choice for pelt hunters.
| | | |
| --- | --- | --- |
| | Click on the target to see the accuracy of the NEW 20 caliber bullet! | |
22 Caliber NEW!! 30 gr DBL HP especially for Hornets!
30gr DBL HP Hot loads for the 22 Hornet. Achieve up to 3500 ft/sec!
37gr, 42gr, & 46gr DBL HP Designed for Hornets, used also in 22 CCM to 223. Suggested maximum - 3800 ft/sec.
50gr DBL HP Especially for 222 and 223. Can also be used from Hornets to 22-250's. Soft core enhances complete disintegration at even low velocities. Suggested maximum - 3600 ft/sec.
52gr DBL HP Similar to the 50gr DBL HP, but the 52gr DBL HP utilizes a hard core to deliver deeper penetration. An excellent coyote bullet. Suggested maximum - 3600 ft/sec.
NEW!! 52gr RBT DBL HP By popular demand, the old large hollow point 52s are back! Due to Fred's incessant belly-aching, we are forced to bring back the 52gr "Bubble Butt". Not great BC's, but you can't beat the launching, elevation and "helicopters"! Suggested maximum: 3600 ft/sec.
55gr HP Deeper penetration makes the 55gr a good light game bullet as well as a varmint bullet. Best with IMR-4350 type powders (AA-2700, H-414, and WW-760) in 22-250 & Swifts. Suggested maximum - 3600 ft/sec.
19 Caliber Re-Barrel Kits by James Calhoon
Re-barrel Kits include: one Super Match Pac-Nor grade, barrel contoured and chambered; three 19 caliber Dewey bore brushes; one set of Forster/Bonanza "BR" reloading dies; 250 custom James Calhoon 19 caliber bullets; complete instructions and load data.
Click here for more 19 caliber experiences & ballistic tables!